The below article was written by Gordan Chang for Newsweek, Photo credit: Andrew Harnik/Pool/AFP via Getty Images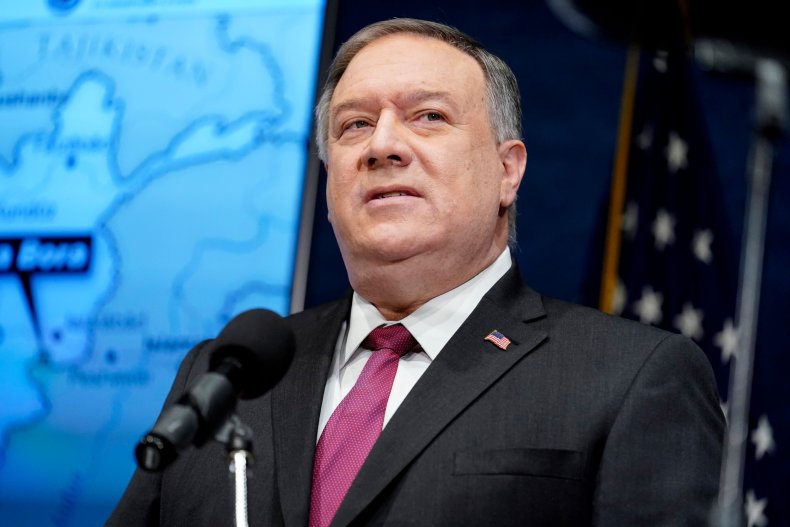 China's Foreign Ministry on Wednesday labeled Secretary of State Mike Pompeo a "doomed clown" after he issued a determination that China was committing crimes against humanity against Uyghurs and other minority groups in Xinjiang.
Beijing will, either in public or private, demand President Joe Biden retract the statement. For China's regime, image is critically important, and Chinese leaders will see a revocation as victory in an early, and therefore crucial, test of will. Pompeo's designation, in any event, will substantially restrain the Biden administration from moving toward closer relations with Beijing.
The official State Department determination is, by any measure, historic.
Pompeo determined that since at least March 2017, China, "under the direction and control" of the Chinese Communist Party, "committed crimes against humanity against the predominately Muslim Uyghurs and other members of ethnic and religious minority groups in Xinjiang."NEWSWEEK SUBSCRIPTION OFFERS >
These crimes, which are "ongoing," include "arbitrary imprisonment" of at least a million people; forced sterilization; torture; forced labor; and "draconian" restrictions on freedom of religion, freedom of expression and freedom of movement.
Specifically, Pompeo found that China was committing "genocide" in Xinjiang.
Beijing's reaction was swift and delivered with North Korean-style bombast. "This notorious liar and cheater is making himself a doomed clown and a joke of the century with his show of lies and madness just before the curtain falls," said Foreign Ministry spokesperson Hua Chunying, referring to the secretary of state, at Wednesday's daily briefing for reporters.
The official determinations, she said, are "completely false allegations and a malicious farce fabricated and hyped up by certain anti-China, anti-communist forces, with Pompeo being a fanatical pioneer."NEWSWEEK SUBSCRIPTION OFFERS >
The Global Times, a Communist Party tabloid, on Wednesday termed the genocide determination "the final crazy move" of "the worst-ever secretary of state." The paper reported, with obvious approval, that Pompeo is known as "Mr. Liar" and the "Secretary of Crimes."
The Foreign Ministry's Hua also dismissed the significance of the secretary of state's determination, calling it "nothing more than a piece of waste paper."
She's wrong: Biden's pick for Pompeo's replacement quickly affirmed the genocide label.
On Tuesday during his confirmation hearing, Antony Blinken stated that he was "very much in agreement" with the determination. "The forcing of men, women and children into concentration camps; trying to, in effect, re-educate them to be adherents to the ideology of the Chinese Communist Party, all of that speaks to an effort to commit genocide," the nominee said in response to a question from Senator Lindsey Graham.
Blinken was on safe ground in using that term. "The unspeakable oppression that Uyghurs and other ethnic minorities have suffered at the hands of China's authoritarian government is genocide, and Joe Biden stands against it in the strongest terms," the Biden campaign said in a statement in August.
Beijing is evidently worried about the genocide charge. The Global Times, after dissing Pompeo, signaled the new president might try to continue the "coercion on China over Xinjiang."
Given China's horrific acts against Uyghurs and other minorities, it will be difficult for the Biden administration to retract the genocide determination. As journalist Isaac Stone Fish tweeted on Tuesday, Pompeo's declaration was the "most accurate statement yet by any government."
There are no automatic American penalties imposed on genocidal regimes, but Salih Hudayar, the prime minister of the East Turkistan Government in Exile, is urging the Justice Department to prosecute Chinese diplomats—specifically including Ambassador Cui Tiankai, under 18 U.S. Code Section 1091, for genocide.
Pompeo himself raised the possibility of concerted international action. "The Nuremberg Tribunals at the end of World War II prosecuted perpetrators for crimes against humanity, the same crimes being perpetrated in Xinjiang," he noted.
No one expects to see Chinese ruler Xi Jinping in the dock in The Hague anytime soon, but that does not mean Pompeo's designation is without practical effect. It does, for instance, increase the political cost for Biden to cooperate with Beijing.
And because Beijing will undoubtedly demand the retraction of the designation, it will limit cooperation. The Global Times made this clear: "Experts warned that given that China would not compromise on issues of its core interests, including the Xinjiang region, the Biden administration should also be aware that the continuous use of Xinjiang topics to pressure China would do no good for bilateral ties, which have hit a nadir."
Americans, living in a democracy, often do not understand the importance of human rights issues to regimes abusing their citizens.
Biden, however, should now understand. He was around during the first months of the Obama administration. In February 2009, then-Secretary of State Hillary Clinton famously said that Chinese human rights issues could not "interfere" with more important matters, such as "the global economic crisis, the global climate change crisis and the security crisis."
Clinton's rhetorical concession, intended to create goodwill in Beijing, in fact had the opposite effect. China's leaders were "ecstatic" about her minimizing human rights. "In their eyes, America had finally succumbed to a full kowtow before the celestial emperor," wrote Laurence Brahm, an American with close ties to Chinese leaders, at the time.
A few weeks after Mrs. Clinton's words, the Chinese felt bold enough to harass two unarmed U.S. Navy reconnaissance vessels in international waters in the South China and Yellow Seas. In one of those incidents, Chinese boats tried to separate a towed sonar array from the Impeccable—an act constituting a direct attack on the U.S.
Today, Beijing is more arrogant—and malicious—than it was in 2009. That is one more compelling reason for Biden to stand firm on Secretary Pompeo's genocide determination.
Gordon G. Chang is the author of The Coming Collapse of China. Follow him on Twitter: @GordonGChang.
The views expressed in this article are the writer's own.