The below article was published by India Blooms
Tokyo/New York/DC:  The East Turkistan Government-in-Exile on Thursday demonstrated against Chinese aggressions in different parts of the world to mark East Turkistan's Independence Day.
The demonstrators highlighted China's human rights violation against the minorities in the region. Demonstrations were held in nations like the US, Japan, Turkey, France and Canada. Demonstration was also held outside the United Nations Building in New York.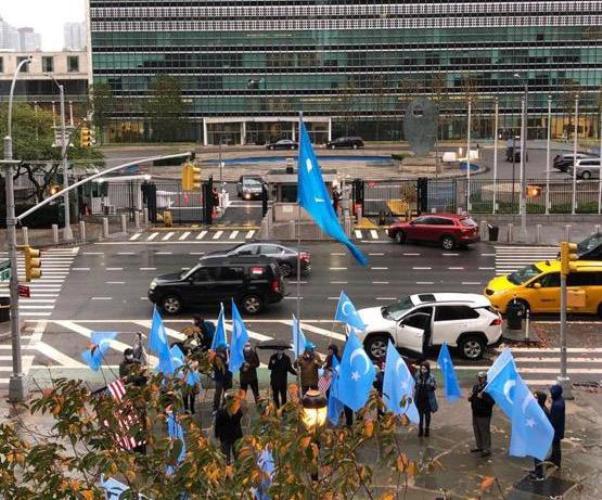 The Canadian Parliament's House of Commons also commemorated East Turkistan's National Independence Day. Prime Minister Salih Hudayar of the government-in-exile thanked the Canadian Parliament and called on Canada's Government to 'formally recognize East Turkistan as an Occupied Country', ANI reported.
"Our towns, our religious places of worship, and even our cemeteries have been destroyed as China seeks to leave no evidence that we existed," Prime Minister Hudayar was quoted as saying by ANI on Thursday. "For us, there is only one solution, and that is the restoration of our country; East Turkistan's independence. For without independence, we will have no human rights."
Appreciating the Canadian Parliament's House of Commons, the government-in-exile tweeted: "We thank the Canadian Parliament @OurCommons @SenateCA
for commemorating #EastTurkistan's National Independence Day. We urge #Canada's Government @CanadaFP to formally recognize #EastTurkestan as an Occupied Country. #IndependenceForEastTurkisiatan"
Hudayar also thanked Canada and tweeted, "Thank you #Canada!"
Protests against Chinese government's alleged atrocities on Uyghur Muslim people were also held in nations like Bangladesh and Nepal.